Coming out of the dressage ring after forgetting the last part of the test, I headed Kat over to the cones arena. This is where Kat really shines and where he gets excited. He loves cones and *WE* have learned to keep a steady pace through the whole course to leave things standing. I say WE because
I
have had to learn to keep him under control and consistent, rather than letting him really extend in the longer stretches between cones. He really enjoys that and it is kinda fun, but we have to keep things under control because trying to reel him back in and line up for the next cone, is not always in his game plan of how it should go. He gets fussy, protests and we knock things down.
The course was fairly easy. Come in and make a long sweeping right circle going through 1, 2, 3, 4 and 5 as you make your way back to the far side of the arena for #6 which was a multiple but a straight line of cones for weaving thru and spaced widely apart. Think pole bending here... Cones 7-14 were a nice serpentine back across the middle of the arena and #15 was another multiple like #6 lining you up for the finish line.
Kat was not happy about waiting around for his turn to go, but I used the practice cones to pacify him and we walked through them, made figure 8's around and through them and we stood around a bit too. Because I had my cell phone in my back pocket and had to take a call, it was another good excuse to practice patience and let him just stand there. (As evidenced by
Nuzzling Muzzles
below)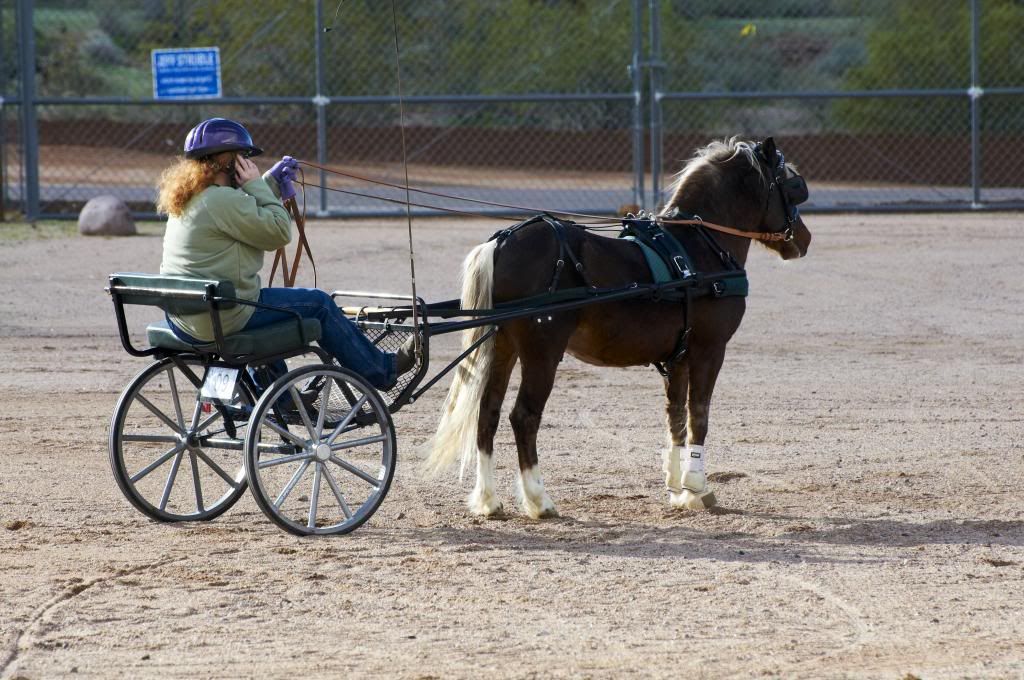 My friend Liz commented about this being one of her favorite pictures of the day- me multi-tasking... I like how Kat is standing reasonably square, at attention and ready to go, yet one ear back on me. He knows what is up and what is coming, he was getting amped, but he still just stood there waiting patiently. Which is sorta ironic because as amped as Kat was and as wound up as he gets about the cones, he casually walked in across the arena as I saluted the judge and I had to push him a bit to get him to trot before crossing the starting line. Goofy pony!

Because of

Brown Eyed Cowgirls

posting about 'finishing her turns' in barrel racing, I have also learned to 'finish my cone' before looking to the next one. I have also learned to look where you want the horse to go- the Center of the cones every time and Never look back. I have gotten to the point where I don't even look down at the cone as I go through them either. If you are going to wipe it out, looking back throws you off and you lose time setting up for the next cone. Sometimes it can throw you off enough- you 'lose' the next cone and have to look for it. Since cones are also timed, this can cause time penalties as well.

We did so well on the part about not looking back- I didn't know until later on in the day that we were double clear. No time penalties and no balls down. When the scores were posted, I also learned that we had the fastest time in Training Pony for the cones. We had a 2:44 on the course, followed by a 2:47, 2:53 and a 3:00 and since there was 3:20 allowed on course, we all came in safely under that.

My mind was in a fog that day because I missed the 2:47 and thought I had left a wider gap between us and the next horse, but that 2:47 happened to actually be a pony named Firecracker. He is a mini that the owner recently measured and moved up since he was technically over height.

As crazy as it sounds, the minis often have faster times in the cones and hazards than horses. They are smaller and more compact so they are easier to line up, have more maneuverability and can really whip through things like nobody's business. Being so compact, the length of the whole horse & carriage gives them the advantage. Think about driving a school bus or even a full sized truck vs. driving a sports car like the BMW Z3. Your turning radius is going to be a lot different, speeds through the turns different, braking time different... It really makes a big difference in the times.

After crossing the finish line, I let Kat go ahead and break into a nice canter. He loves it and enjoys it, so as long as he keeps his mind, I reward him with that. I only require of him that he slows back down and we exit at a slower pace. If this is his reward now, I can't imagine what it will be when he gets to run through things at an upper level. Maybe he will be tired and the 'reward' he will be looking for is walking?